Try out the Waitr Delivery Service below!
Ham, cream cheese, fresh basil and roma tomatoes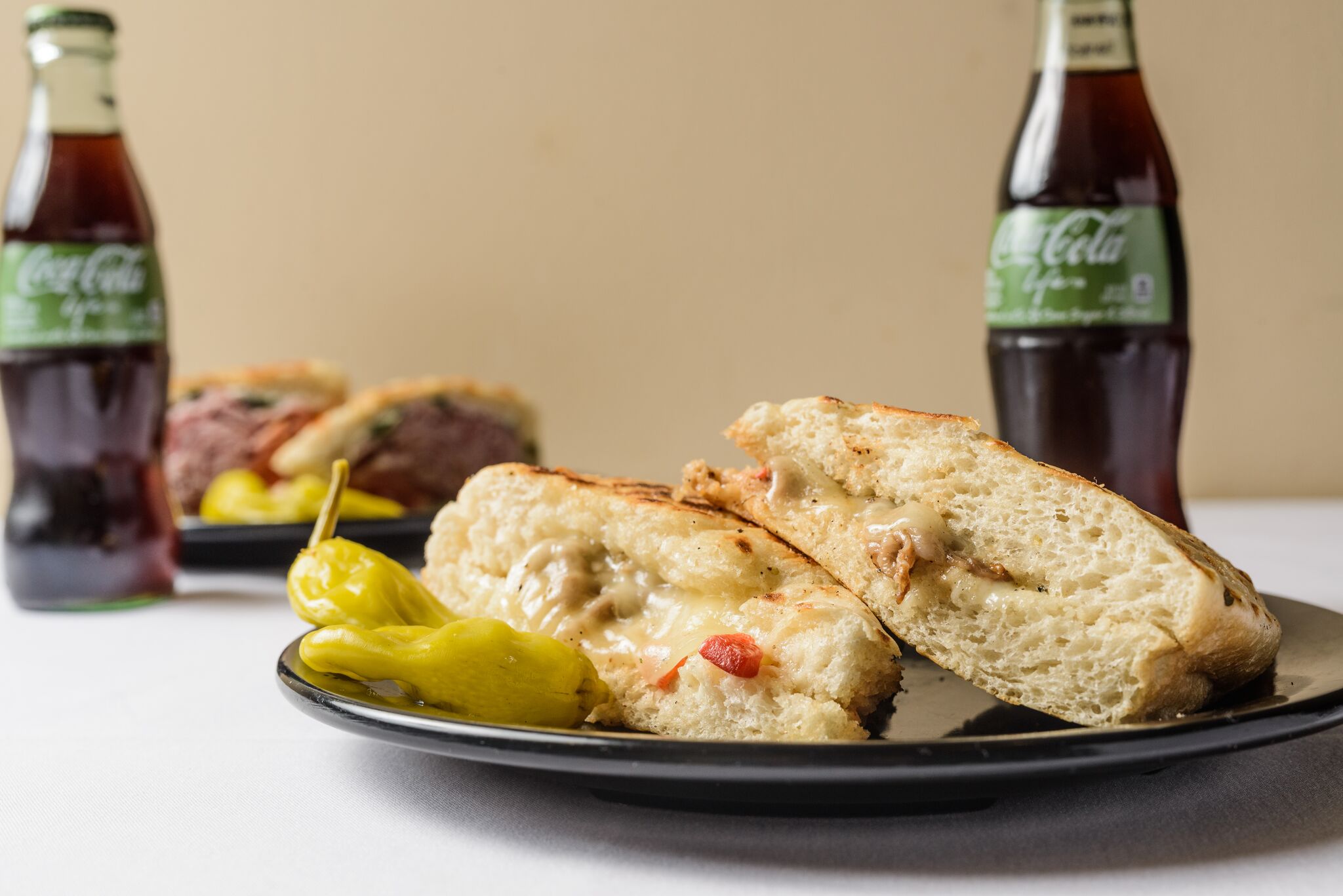 Prime Rib, roasted bell peppers, provolone cheese and horseradish mayo
Turkarella – Turkey, fresh mozzarella, roma red tomatoes and pesto mayo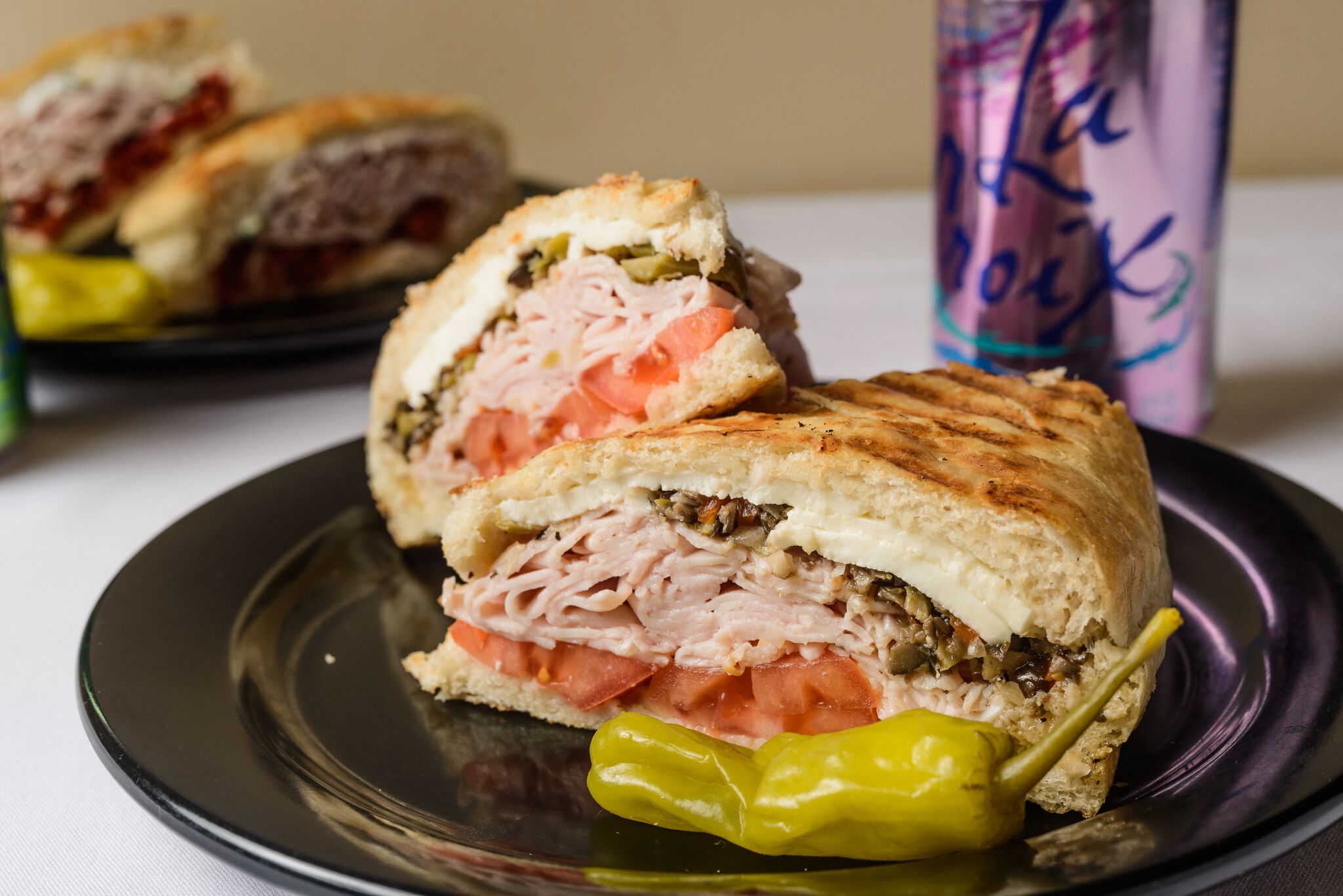 The Slam – Ham, salami, fresh mozzarella, roasted red bell peppers, pesto mayo and olive salad
The Club – Turkey, ham, bacon, provolone, lettuce, tomato, mayo and honey mustard
The Elvis – Peanut butter and banana
The Veggie – Roma tomatoes, fresh mozzarella, olive salad and pesto mayo
Turkcream – Turkey, cream cheese, fresh basil, sundried tomatoes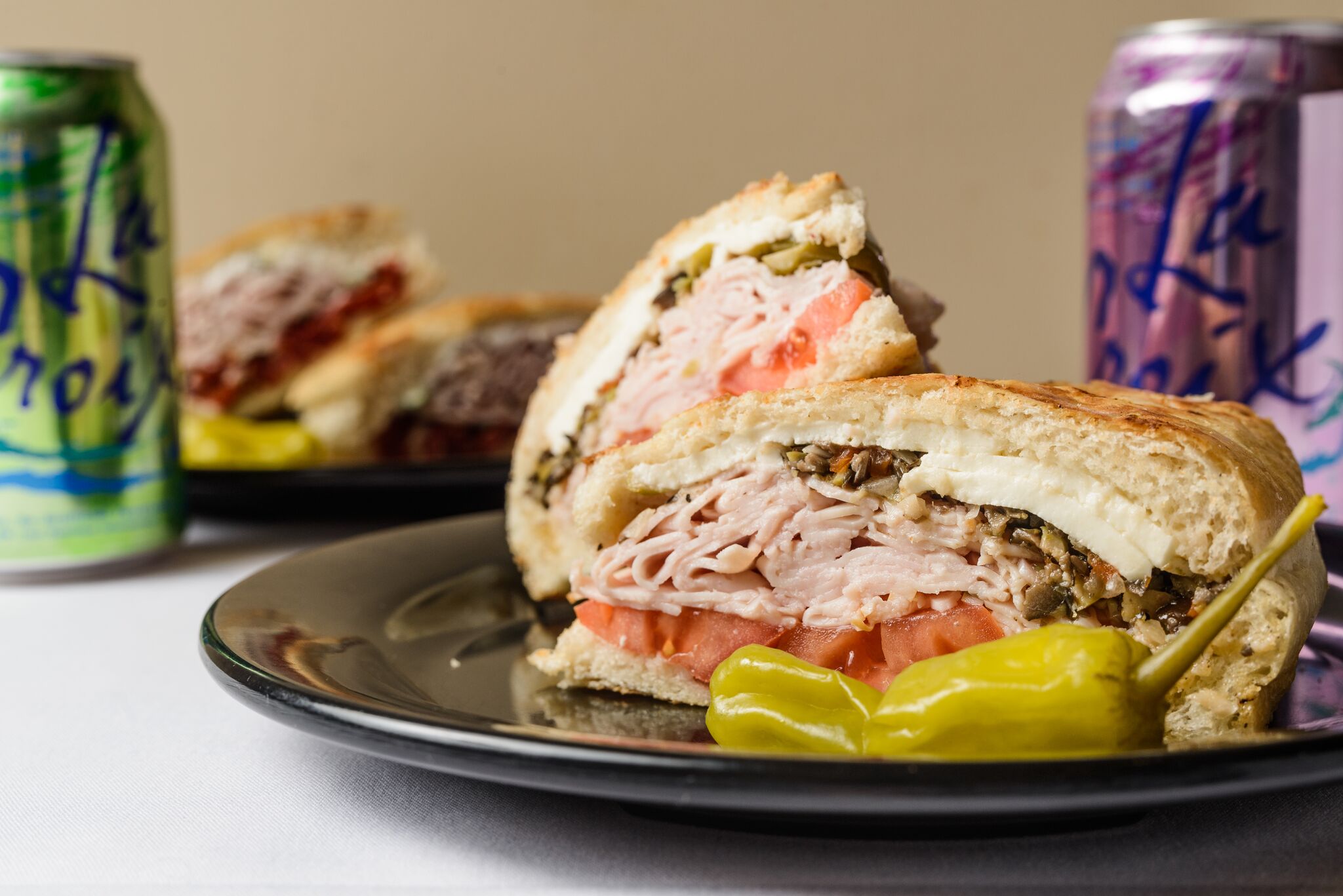 Turkey, fresh mozzarella, olive salad and roma tomatoes
The Cayman – Homemade pimento cheese, apple smoked bacon, lettuce and roma tomatoes
The Zoe – Grilled chicken breast, apple smoked bacon, pesto mayo, lettuce, tomatoes and provolone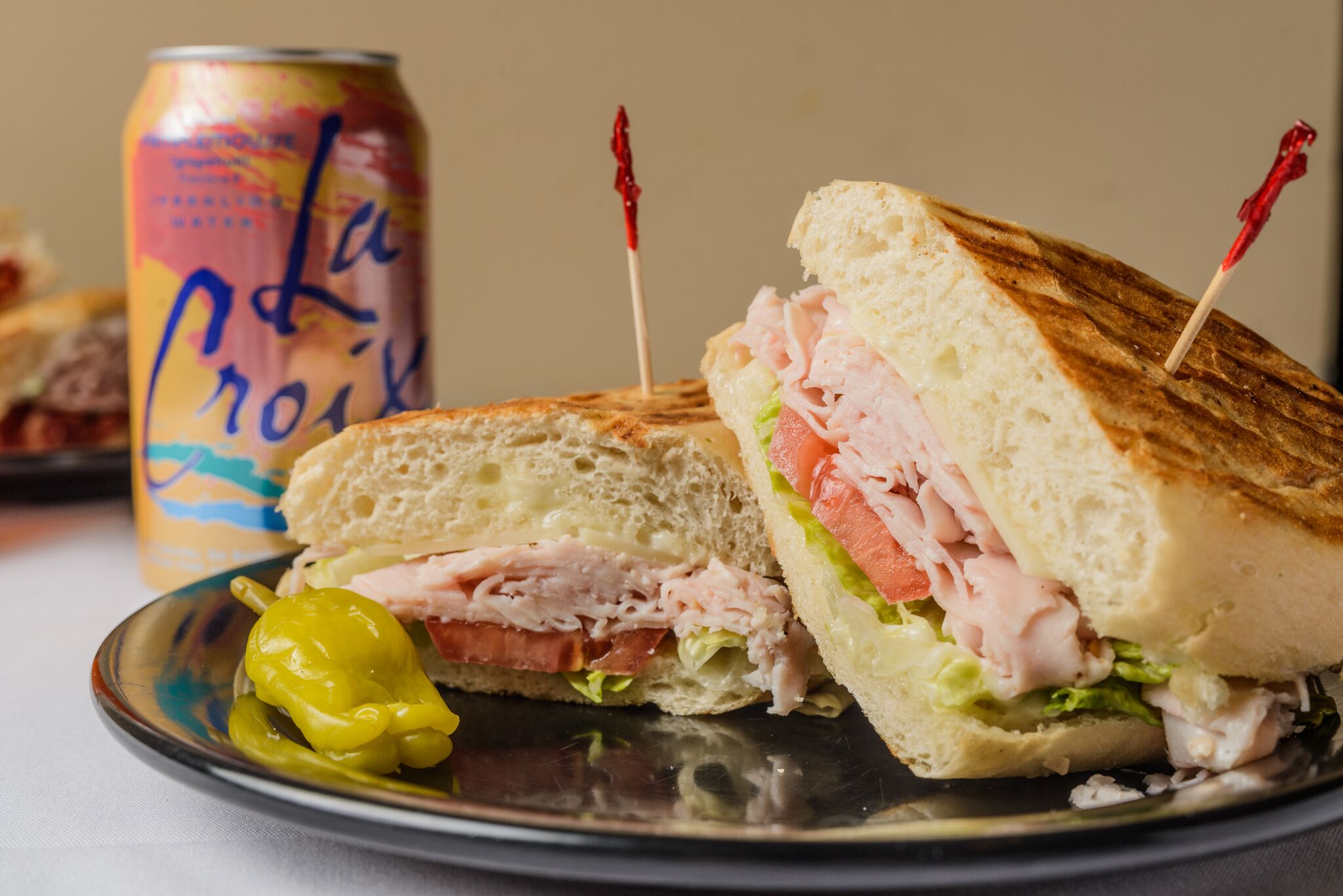 Ham, turkey or roast beef, with lettuce, tomatoes, provolone cheese, mayo or mustard, served on Italian Roll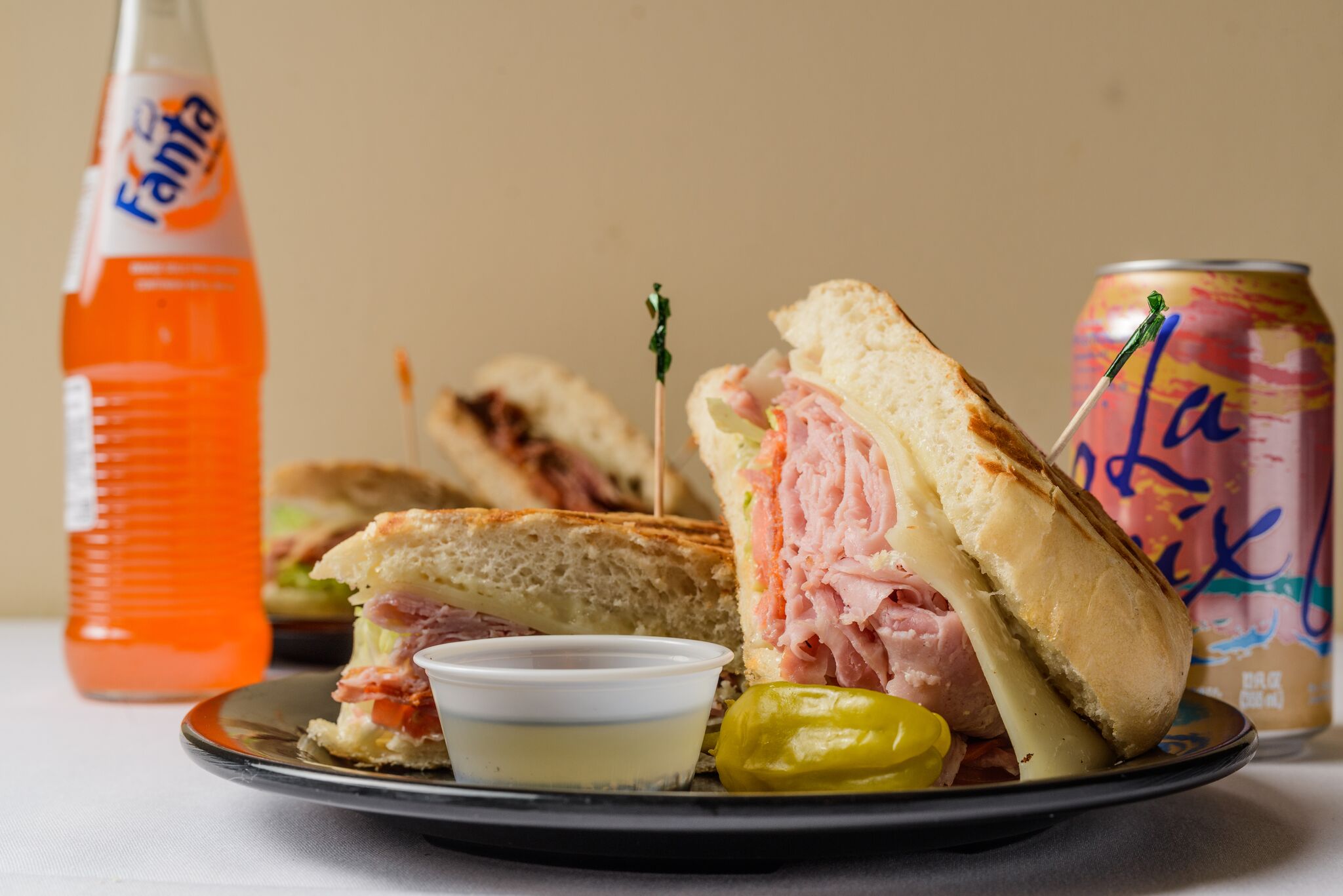 Lettuce, tomatoes, ham, salami, pepperoni, tomatoes, provolone cheese, pesto mayo, and balsamic vinaigrette served on Italian Roll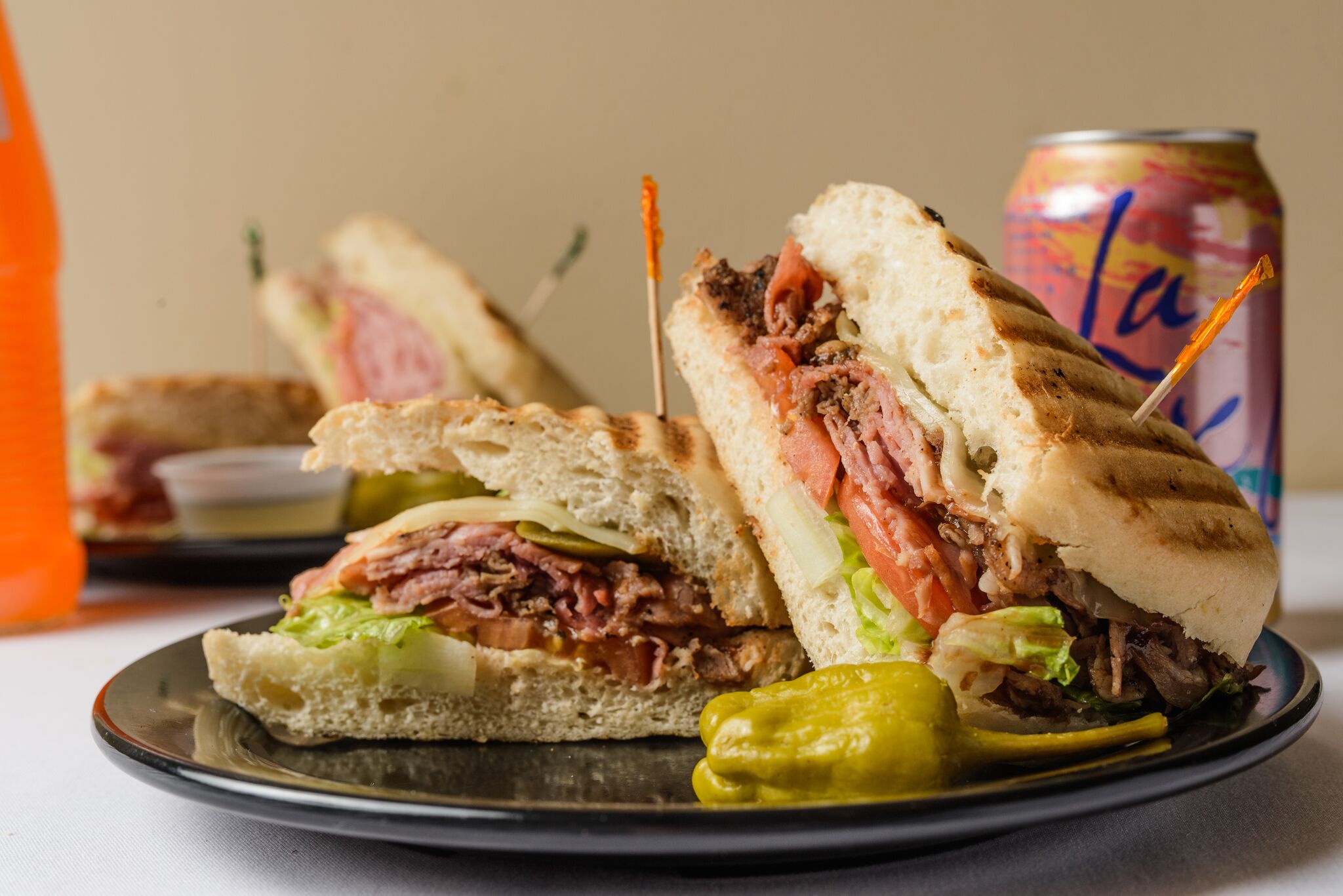 Ham, roast beef, lettuce, tomato, provolone, jalapenos and BBQ sauce served on Italian Roll
Salads
The Garden – A mixture of romaine hearts and spring mix, with a variety of vegetables and a deviled egg $8.00
Caesar – Romaine hearts, croutons and parmesan cheese, with our homemade Caesar dressing $8.00
Pasta – Choice of bowtie or rotini $8.00
Add Grilled Chicken, Ham, Turkey, or Pimento Cheese to any of our salads $3.50
Dressings – Champagne Vinaigrette, Caesar, Balsamic Vinaigrette, Honey Mustard, Ranch, Caesar and Comeback
DISHES and SIDES
Side Salad $4.00
Side Caesar $4.00
Side Pasta $2.50
Deviled egg $0.75
Chips $0.99
Tomato Basil soup – Cup $3.50 Bowl with Wedge $7.00
Please ask us about catering your next party!
BASIL'S DOWNTOWN CATERING
CATERING BY DEBBIE
601-937-0630
601-291-4333
BREAKFAST
BLUEBERRY OR CINNAMON HARVEST MUFFINS
EGG, SAUSAGE,HASHBROWN AND CHEESE CASSEROLE
CHEESE GRITS
ASSORTED QUICHE
FRUIT PLATTER
BISCUITS
HAM AND SAUSAGE CHICKEN PATTY WHITE GRAVY
FULL COFFEE AND JUICE BAR
LUNCH AND DINNER SOUPS
CARIBBEAN STYLE BUTTERNUT SQUASH
CHICKEN TORTILLA
CRAB BISQUE
HEARTY BEEF AND VEGETABLE
TOMATO BASIL
LOADED BAKED POTATO
ITALIAN LENTIL
CHICKEN NOODLE
3 CHEESE BROCCOLI
MATZO
3 BEAN AND SAUSAGE
BLACK BEAN CHILI
THAI CHICKEN
ALL SERVED WITH HOUSE MADE FOCACCIA BREAD
APPETIZERS, DIPS AND SPREADS
CHEESE STARS
BLACKEYE PEA ROTEL
AVOCADO BLUE CHEESE DIP
CRAB PICO
PIMENTO CHEESE BACON DIP
PUTTIN ON THE RITZ DIP(CHEESE, CRAB, SAUSAGE)
BLACK BEAN CORN SALSA
CHICKEN SALAD
SPINACH ARTICHOKE DIP
BACON WRAPPED BREAD STICKS
MONTERREY JACK AND SHOEPEG CORN DIP
RED BEANS AND RICE
HOMEMADE WHITE AND JALAPENO CHEDDAR MINI ROLLS WITH TURKEY, HAM, CHICKEN SALAD, PIMENTO CHEESE and PORK TENDERLOIN
SAUSAGE AND CHEESE TRAY
ANTI PASTO
SHRIMP TOAST
MARINATED BACON WRAPPED NEW POTATOES
SHRIMP AND CRABMEAT DIP
CHICKEN OR CHEESE QUESIDEAS
HOT CRAYFISH DIP
MARINATED GRILLED CHICKEN WINGS
STUFFED MUSHROOMS(SAUSAGE OR VEGE)
GUMBO
SPICY CORN DIP
SOUTHWESTERN CHEESE TORTS
BRUSCHETTA - BASIL, TOMATO, MOZZ CHEESE
DEVILED EGGS
CHICKEN AND PIMENTO CHEESE
THIN SLICED RIBEYE WITH GREEN ONIONS AND HORSERADISH SAUCE
ENTREES
HAMBURGER STEAKS WITH GRILLED ONIONS AND GRAVY
HOMEMADE MEATLOAF
SPAGHETTI AND MEATBALLS
LASAGNA
RED BEANS AND SAUSAGE\RICE
PORK TENDERLOIN
CHICKEN PARMESAN
CHICKEN TETRAZZINI
SOUTH OF THE BORDER CHICKEN CASSEROLE
JOHN WAYNE CASSEROLE
SHRIMP AND GRITS
GRITS AND GRILLADES
CHICKEN AND SAUSAGE CREOLE
CHICKEN AND SAUSAGE JAMBALAYA
TURKEY AND DRESSING
CHICKEN CORDON BLEU
SMOKED SALMON
CHICKEN MANICOTTI
MARNINATED CHICKEN TENDERS OVER WILD RICE WITH A THAI SAUCE
SAUSAGE ROTEL PASTA
GRILLED CHICKEN BOWTIE PASTA
PULLED PORK
GRILLED CHICKEN
SIDES
GARLIC MASHED POTATO
ROASTED VEGES
POTATO SALAD
BAKED BEANS
GREEN BEAN ALMONDINE
ROASTED NEW POTATO
ARTICHOKE AND WILD RICE
SQUASH CASSEROLE
SWEET POTATO CASSEROLE
2X BAKED POTATO CASSEROLE
TURNIP GREENS
BROCCOLI AND RICE CASSEROLE
ITALIAN TOMATOES
CORNBREAD DRESSING
GREEN MIXED SALAD WITH DRESSINGS
PASTA SALAD
SPINACH MADELINE
LOBSTER MAC AND CHEESE
CUCUMBER SALAD
GREEN BEAN CASSEROLE
COLE SLAW
DESSERTS
BANANA PUDDING
BREAD PUDDING
CHESS OR CHOCOLATE SQUARES
BROWNIES
ASSORTED COOKIES
MANDARIN ORANGE CAKE
CHEESE CAKE
FLOUR-LESS CHOCOLATE CAKE
CHESS-LEMON-CHOCOLATE PIES
FOR DROP OFF DELIVERY, WE PROVIDE ALL PAPER GOODS AND ICE. PLEASE ADD 9% SALES TAX AND $20 DELIVERY FEE.
FOR FULL SERVICE PLEASE ADD 9% SALES TAX AND 20 % SERVICE CHARGE